Even now, despite the progression of time of and events, and the many eulogies and tributes, it is hard to fully comprehend the loss. In truth, we lost his functional leadership many months ago. But somehow, his mere existence gave us strength. And the hope that he might, miraculously, one day return to his unique form of transcendental leadership. After all, he had pulled off so many seemingly miraculous achievements. Indeed, his whole life was a miracle.
Perhaps I find it difficult to comprehend his passing because I have never known a world without him. Not as a leader, or even a politician, but as my father's friend - who would come home to play cards for long stretches of time. I was born in 1966, so history suggests that at the probable time of my earliest memory, he was already the Chief minister of Tamil Nadu, and my father an MLA. But I certainly didn't realize the implications of either of those roles back then.
I must have become cognizant of positions a little earlier than many children, given my family's long political legacy and ongoing involvement. My attire and facial expression in this picture, taken during a visit to our home in Madurai, suggest that I had developed some inkling of his stature.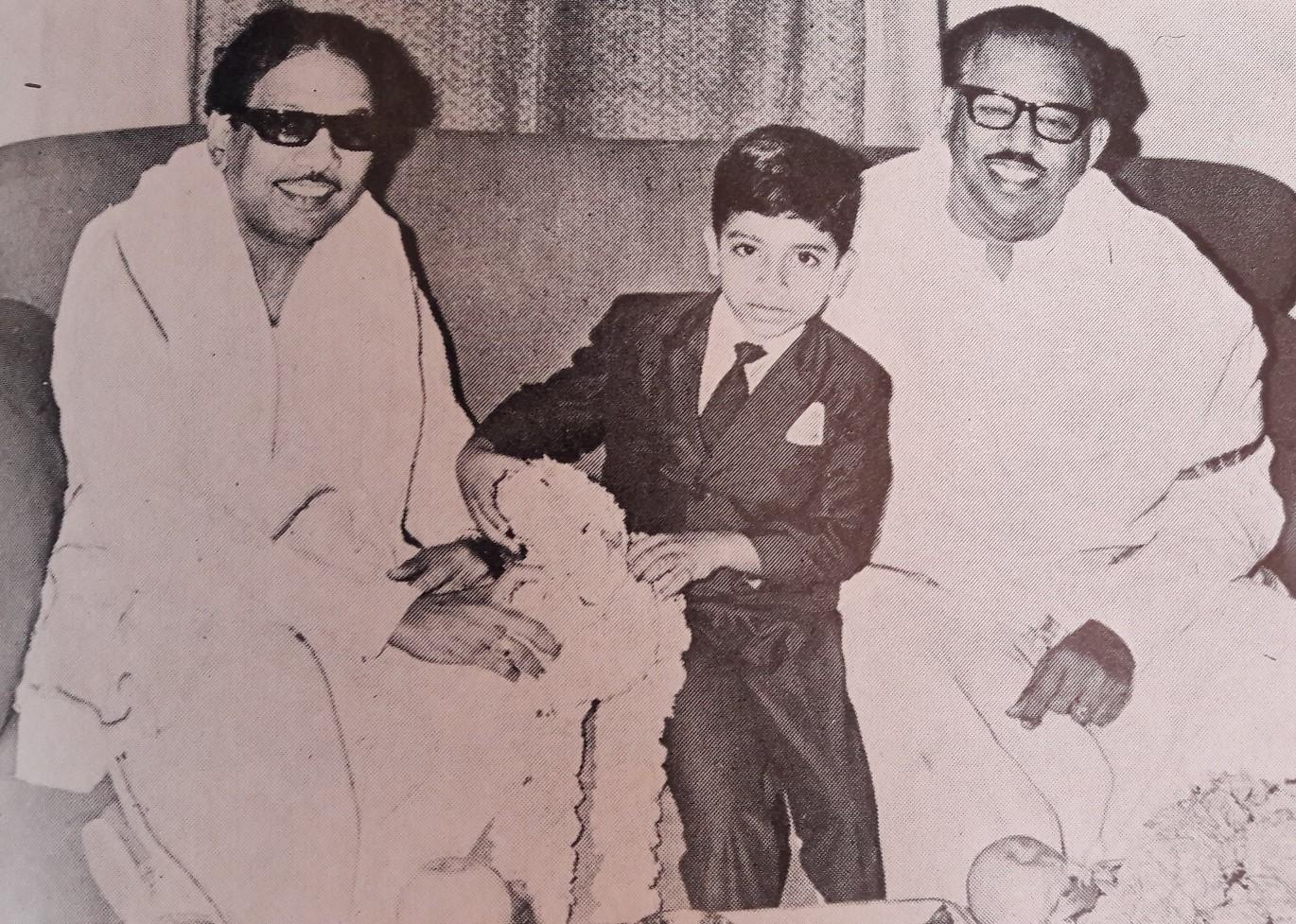 An MLA for over 60 years, it is hard to overstate how strongly Thalaivar believed in Constitutional Democracy. My late father P.T.R. Palanivel Rajan is held up by some as an exemplary Speaker of the Tamil Nadu Legislative Assembly (1996-2001). Whatever credit is due my father's performance as Speaker, must be laid directly at the feet of Thalaivar – as any Speaker functions only at the pleasure of the Chief Minister. As my father said on many occasions, he was able to maintain such high standards because Thalaivar encouraged, indeed expected, him to do so.
Thalaivar's dedication to the founding principles of the Dravidian Movement, stretching all the way back to the days of the South Indian Liberal Federation, is also incomparable. He sacrificed a lot, including his Government's continuance in power on more than one occasion, to maintain his steadfast commitment to the principles of Self-Respect, Social Justice, and Federalism. What's more, he made a point of linking the introduction of every major social-reform legislation back to the original date/event when the notion had first been presented in the Dravidian Movement's history – and often to the individual proposer of the principle. Periyar and Anna were seminal Ideologues, who set the direction for decades to come. But Thalaivar was surely the greatest at implementation by a large margin. The laws and policies he enacted have benefitted more people, more profoundly, and over a longer period, than any other political leader in Indian history.
When my father died suddenly in 2006, days after taking office as the HR&CE Minister, my mother & I were devastated. Thalaivar was a great source of strength and solace to us during the most difficult period of our lives. Once he felt I'd had adequate time, as my father's only child, to deal with the family issues, he sent for me. I met him at the Chief Minister's office at the Secretariat. He offered me the opportunity to enter public life in my father's place. I lived in the US then, and due to family circumstances, was unable to accept his kind offer. I committed instead that I would answer the call to duty at some later time. His response shows the quintessence of his magnetism & mystique. "I had hoped that your joining me would lessen my pain at your Father's untimely loss, and I'm disappointed that you will not continue your family's legacy and uninterrupted involvement in our movement," he said. "However, I won't compel you. But you must commit one thing: Always be as affectionate to me as your father was." I teared up and assured him of my life-long affection.
As I left the Chief Minister's Office and headed out into the corridor, I passed a TV crew on their way in. About 60 seconds later, and while I was not yet in the car to leave, I heard that he had announced the DMK candidate who would stand for the by-election to my Father's old seat! Such was his capacity for balancing personal affection against optimizing the party's needs, all while staying true to his sense of fairness. It is worth noting that he was 82 years old at this point!
Various events and circumstances led to my missing the 2011 elections – I didn't apply, and he didn't press me. But in keeping with my word to him, I took premature retirement from my banking career and applied to be a candidate from my Father's old constituency for the 2016 General Election. True to his word, and in consultation with our leader & hope, DMK Working President M. K. Stalin, he selected me for the seat, choosing me from a pool that included many other applicants.
It was my great misfortune that he was only fully active for a few months after my election as an MLA. But even in that short time, I was always excited to visit him, often seeking his advice or guidance, and sometimes just to listen to his memories from the old days. He talked nostalgically of acquiring the property and creating Anna Arivalayam, after going against all advice and caution.
I have a vivid memory of our last one-on-one conversation, late one evening with only his loyal assistant Nithya hovering ever-vigilant for any symptoms of unease. I was aggrieved that the Assembly Speaker had included my name in the list of people suspended from the Assembly for 5 days – despite having been in the Library along with other MLAs from both parties (and hence not present in the Chamber) during the entire series of events leading up to the mass expulsion, and subsequent suspension of all DMK MLAs. I had done some preliminary assessment of pursuing a legal remedy with the support of Counsel – but there was no consensus on whether to proceed.
In the end, our Working President arranged for me to present my arguments for why I should escalate the matter to the High Court to Thalaivar alone and have him make the call. I detailed the course of events over a couple of minutes. He listened carefully – and inscrutably - as always, to everything I said. He never interrupted or asked for any clarification. "The critical questions, Ayya," I said in conclusion, "are whether an MLA can be evicted & suspended from the Assembly by the Speaker without having broken any rule of conduct or norm. And if so, what are the limits on the Speaker's discretion? Can't he decide one fine day that all those wearing Red & Black-stripe Veshtis, or having moustaches, should be evicted? Is so, how is this Democracy?"
He was silent for about 30 seconds, and motionless except for the fingers of his right hand framing & re-framing the void where his wheelchair remote control would be placed when he was ready to move. I worried that it was a sign he was ready to call it a day and move back to his bedroom. I feared I hadn't been clear enough in my statement. But then he spoke – briefly and precisely. "These are very important questions. The Courts must determine the answers. Please start legal proceeding immediately, and my best wishes for a good outcome." At 93, and in such a short time, he had already weighed the whole range of possibilities, including the proceeding reaching the Supreme Court, before he gave his consent!
The frequency of my Gopalapuram visits dropped after the medical procedures at Kauvery Hospital last year. I didn't have a high claim on his time relative to the many party seniors who had served directly with him for decades. It was also heart-breaking to see his decline, and I worried any visits would be disruptive to his delicately balanced schedule of treatment & sleep.
On the day of his passing, and subsequently during the Funeral proceedings, I stayed at a discreet distance from the ceremonies despite my own sense of loss, giving due consideration to how much more acutely his large immediate family, and the many who had spent decades under his direct leadership, must feel the pain.
But even in passing his magnetism was as powerful as ever. Completely by circumstance I found myself near the coffin when the Police lost control of the crowd at Rajaji Hall in the early afternoon, and the ensuing surge threatened to tip the coffin over! Alongside some of his grandchildren, we struggled to physically hold the coffin steady against the agonized masses who broke through the barricades on both sides of the "VIP Area" at the top of the steps at Rajaji Hall. I found myself right by his chest for a time, pushing forward against the coffin with my upper body to prevent it from tipping over on its side, and pushing away from the standing Air-Conditioners with my legs to prevent them from falling onto the coffin from behind. He passed as he lived – amidst a surging sea of ardent followers.
Like millions of others, I remain in Thalaivar's debt for the many ways in which his untiring efforts improved our lives and our Society. But beyond that gratitude, the wisdom of his words after my father's passing are etched in my mind - love and affection are the most important considerations & commitments, because one's memory of them remain even after all else is gone.
Providence, and Thalaivar's remarkable support team, have been kind. I received a couple of pictures after one of my visits – that I didn't know had been captured, let alone ask for.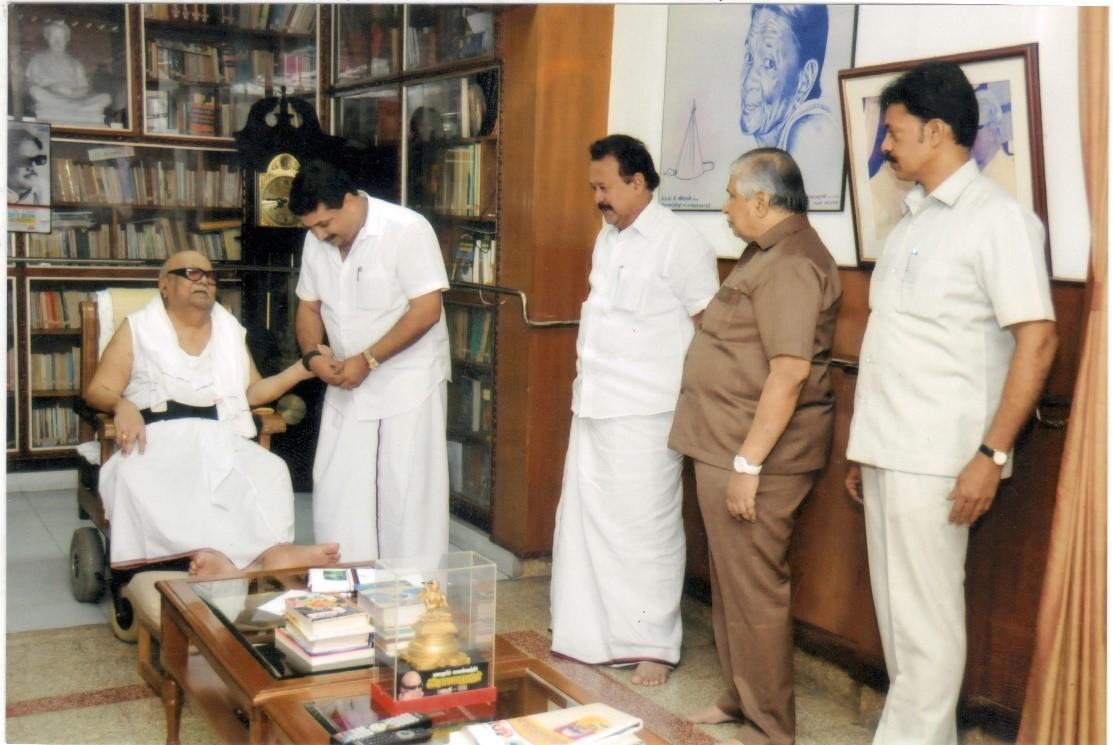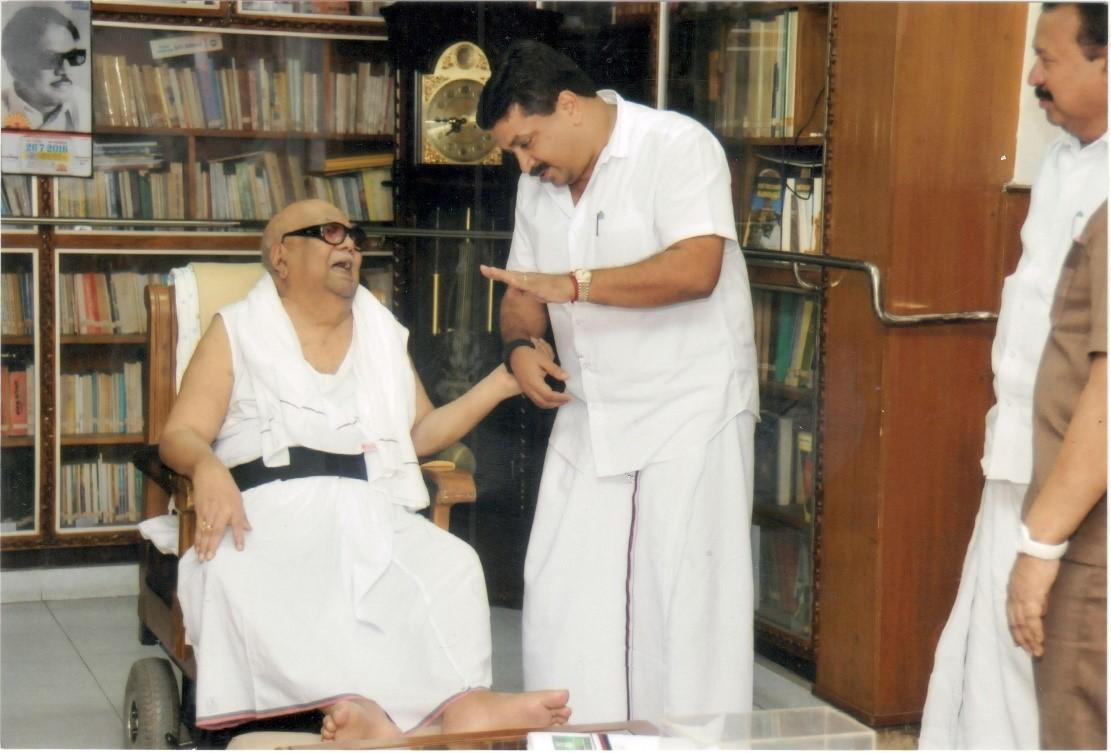 It's very likely that sentiment clouds my perception, but I see in these pictures the warmth and affection I always felt in his presence, irrespective of where I met him.
They serve as a reminder of my commitment to him, made over a decade ago: unwavering affection till my last breath.