The man behind DMK's social media strategy works towards a Dravidian makeover
WHAT'S SO SPECIAL about an ex-Wall Street trader following the money? Well, when there is Rs 17.25 lakh crore of it, making up India's second largest economy, it takes a particular brand of crazy to pick the numbers to the bones, and that too after pivoting, rather comfortably, to politics. Three years ago, when PTR Palanivel Thiaga Rajan traded his business suits for a politician's starched whites, he thought he was leaving the game behind for good. Little did he know he would be playing the big stakes. Rajan made his mark in the 15th Legislative Assembly, barely two months after his election in 2016 from Madurai Central on a DMK ticket. Mocked for his timorous Tamil, the first- time MLA nevertheless tore into the aporia of a macroeconomic strategy that resorted to borrowings to balance the current account while cutting back on capital investment to keep deficits in check. Since then, Thiaga Rajan's voice has periodically ricocheted through Tamil Nadu's Legislative Assembly, poking holes in the state's finances and calling out policy makers for their maladroitness. "In 2018, capital investment dipped to just Rs 18,246 crore, with deficit spending on the current account crowding out infrastructure creation. This is simply unconscionable. The state has been on a path of steep descent since 2011," says Rajan, whose proficiency in Tamil has galloped faster than the state's deficit spending. We meet on the sidelines of the Budget discussion in the Assembly, and then again in his constituency, where his family has enjoyed a loyal support base for four generations.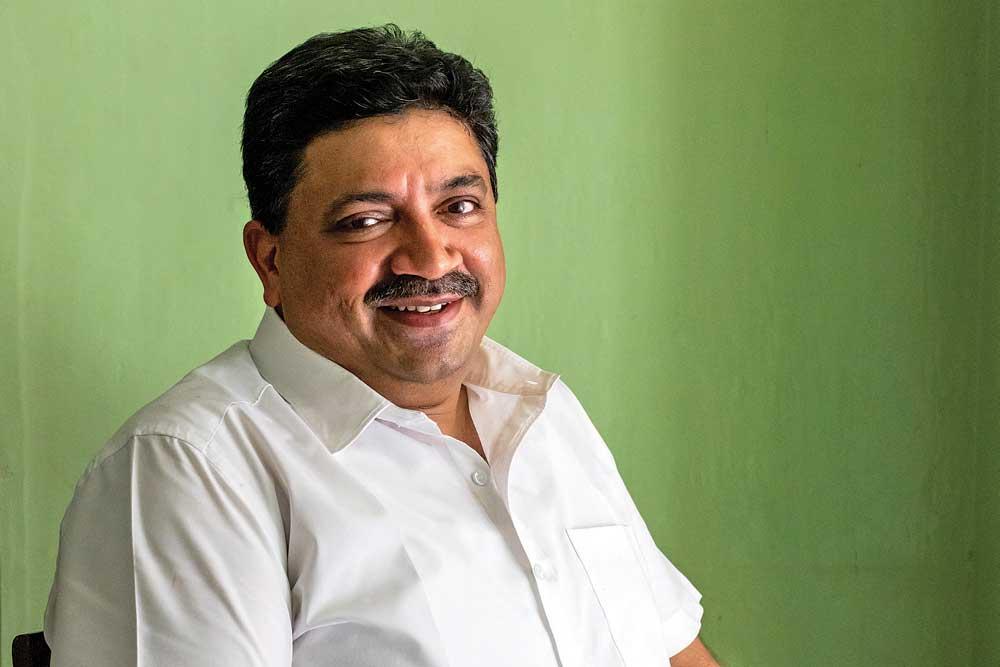 Grandson of Sir Ponnambala Thiaga Rajan, Chief Minister of Madras Presidency for a while in 1936 and the last president of the Justice Party, Rajan also shoulders the more immediate political legacy of his father, the late PTR Palanivel Rajan, ex-minister and ex-speaker of the Tamil Nadu Legislative Assembly. It is these credentials, more than his management degree from MIT-Sloan and a stellar career with Lehman Brothers in New York (as head of offshore capital markets) and Standard Chartered in Singapore (as managing director of financial markets), that make Thiaga Rajan palatable to the DMK leadership. "I have been fortunate, to say the least. The party welcomed me even before I decided to follow my father's example. Being smart is one thing, but political pedigree can put you on the fast track, and in a position where you can quickly make a difference," says Rajan, 52. In politics, the past has a way of clinging to you like the rain. Rajan cannot shake off generations of wealth—"when my son asked for a flat bed on a Madurai-Chennai flight, I decided enough was enough"—but also embedded in the alloy of his identity is a propensity to question the inertia of thought. "We are Thondaimandalam Mudaliars; we have been landed for generations. In fact, until the early 20th century, we were stinking rich. Industrialisation and my father's priorities—people and politics over business—cut into my inheritance but it didn't matter because I had decided I would make my own money before I came to politics. In fact, the assets to the tune of Rs 35 crore that I declared in my election affidavit in 2016 are just my earnings from my career in finance. As a family, we haven't kept proper records of the lands and properties we own across Tamil Nadu, but I can tell you there is more than enough that I don't have to make money from politics."
Rajan has already become part of a neo-Dravidian intelligentsia that is calling for a renewal of the movement, a return to its tenets of income equality and economic opportunity. Said to be a confidante of DMK President MK Stalin, who, in 2017, entrusted him with setting up a new, state-of-the-art IT wing, Rajan is emerging as a key figure in a party that wants to be ready for the information age. He addresses industry bodies and college events, participates in TV debates on policy, publishes scholarly articles, and breaks into places the DMK would not otherwise reach. "Thiaga Rajan's views find favour with the educated middle class and elevate the level of debate on fiscal policy," says deputy leader of the opposition Durai Murugan. "We need such professionals in the party." The sharp tang of a first-term politician calling the Budget "a talentless exercise" is somewhat tempered by Rajan's professionalism, making room for constructive debate. "PTR is new to politics; he is not new to finance and IT. Although a section of the DMK perceives him as an outsider and wants to send him to Delhi on an MP ticket, the leadership wants him here in an advisory role," says a senior AIADMK leader and ex-minister, requesting anonymity. "We don't see his criticism as a threat. We have had our setbacks—GST implementation, demonetisation, Cyclone Gaja, discom debt transfer, pay commission recommendations and other external forces—but the manufacturing and services sectors are on a growth path now."
"This will be the first election where more than 50 per cent of the electorate is online in some form or the other. The role of social media and IT-based internal and external communications will be crucial," says PTR Palanivel Thiaga Rajan
A member of the state Public Accounts Committee, Rajan is a high-functioning workhorse who compares and tables successive Budget estimates and actuals, mines whitepapers and the RBI's studies of state finances, and releases reports that are then widely circulated on social media and picked up for discussion in newsrooms. While these reports present a familiar rap sheet, they arguably represent big, bold swerves on the road to financial literacy in a state where people traditionally vote for personalities rather than for socio-economic ideals. Is it possible that the average voter cares about how the state's accounts are run and can even be persuaded to question the motive behind the meretricious Rs 2,000 dole for BPL families announced by the chief minister two days after his government presented the state Budget for the year? Can we reasonably expect the 33 million-strong workforce to react to the fact that over 60 per cent of the state's own revenues are spent on the salaries and pensions of less that 4.5 per cent of the working population? Rajan believes the people deserve to know, for instance, why the state's own revenues have lagged behind expectations, and why Tamil Nadu has not claimed from the Centre its share of GST revenues amounting to Rs 5,909 crore, pending basic and performance grants of about Rs 4,412 crore allocated to local bodies, and education grants to the tune of Rs 4,187 crore.
With J Jayalalithaa and M Karunanidhi, the last two Tamil leaders who could rouse people with rhetoric alone, no longer in the reckoning, the parties are expected to look to professionals in law, IT and finance to cast out old delusions and embrace new-age strategies. "In Tamil Nadu, this election will be distinguished by two major factors. This will be the first eletion in over 30 years that both J Jayalalithaa and Thalaivar Kalaignar haven't been in their respective leadership positions. Second, this will be the first election where more than 50 per cent of the electorate is online in some form or the other. The role of social media as well as IT-based internal and external communications will be crucial," says Rajan. In a scenario where cash-for-votes and temporary pecuniary benefits cannot guarantee electoral success, data analytics could prove crucial. "I have seen leaders who reportedly paid money ahead of the 2016 Assembly elections fail and some who did not have cash to distribute win on merit," says Rajan. "It is infinitely better to spend on gathering intel on one's constituency and taking care of grassroots workers."
On an hour-long drive from Madurai to Usilampatti to address three grama sabhas as part of a statewide DMK outreach programme, Rajan flips through a report drawn up by the local IT wing incharge. "This is what we know. No public toilets. No secondary schools. Bad roads. Proactive women voters. We also have community-wise demographic data. This basic profile is enough to help me understand and better respond to their complaints," Rajan says. The three villages on the agenda today fall under the Usilampatti Assembly segment and are AIADMK and Forward Bloc strongholds. In Allikundam, amidst a 1,000-strong predominantly Thevar crowd—mostly ageing women who work as farm labour— there is, sure enough, a sense of moral outrage against leakages in the seniors' pension disbursal system, against implementing NEET and cutting MNREGA work, and against TASMAC stores in the vicinity. Video feed from such public meets will be used by the IT wing towards an internal audit, enabling the party to aggregate suggestions and include the most popular ones in their manifesto.
A couple of years ago, Rajan would have written a speech in English and had it translated and memorised for what would have been a nervous recital. Today, having upped his ground game, he speaks unhindered in Tamil about a flailing democracy and the financial pratfalls of the AIADMK regime. "It is a miracle I won the Assembly election," he says, back at his ancestral home in Madurai. The AIADMK had swept Madurai district in 2011 and it repeated its success in 2016, winning eight out of 10 seats—all except Madurai Central and Madurai East. Contesting from Central, Rajan polled 64,662 votes against the AIADMK's M Jeyabal, who got 58,900. "I had no idea how to campaign and I certainly didn't expect to win. I went around with my wife [an American who is now a well-known face in his constituency] and kids and stood there without speaking a word. I knew what I had going for me was my father's track record. The one thing I said was, I won't distribute money. Vote for me if you want governance," says Rajan, over a simple lunch with a group of IT wing office bearers. Polling was on a rainy weekend and a chunk of the educated middle class voters didn't show up. When Rajan later ran the booth-level numbers, however, he found that the poorest neighbourhoods, with a high population of Dalits and women, contributed to his win. "The poor voted for me because they saw a glimmer of hope," he says. "But mostly, they voted for the goodwill that my forefathers earned by playing a part in a movement that was the ideological predecessor of Dravidian politics. The Justice Party [also known as the South Indian Liberal Federation] was instrumental in introducing universal voting rights and compulsory elementary education for girls and boys in Madras Presidency. The DMK has largely stayed true to these ideals. It was under DMK rule that the Self-Respect Marriage Act and the Hindu Succession (Amendment) Act 2005 were passed, for instance."
Dravidian principles, Rajan concedes, have been considerably watered down within the DMK ranks today. The Dravidian parties, by firming up alliances with the BJP, the Congress and smaller regional parties for the Parliamentary elections, now stand trapped in layers of opinions and prejudice. To ensure an accretion of values from the ground up, and to reassure party workers who are reportedly disgruntled with alliance vote shares, the DMK must believe in the transmissibility of hope. "We have something like eight million party members; most of them don't know why they are with the party. We have no organisational structure and no systematic data on these members. Unless we have this crucial data, how can we all pull in the same direction? We could lose touch with our core culture and become just another party with a diminishing vote share," says Rajan. A database with a feedback loop and built-in analytics could be the answer. The IT wing encompasses a growing army of office bearers—the goal is to eventually enlist 80,000 booth-level workers, with basic digital skills to undertake a household survey,—a dedicated HR department, a small social media team including fake news trackers, and technical backend teams in Chennai and Madurai. "Social media is a small part of what we do but we can already trend a topic globally, from Vancouver to Tokyo. We are not playing for the 2019 Lok Sabha elections, we are playing the long game," says Rajan, who has bigger plans yet.
"I want to buy a big plot of land on the East Coast Road and put up a building to house the largest policy think tank in Tamil Nadu," he says. How does one keep the engines of social mobility from stalling? As the role of the state diminishes, and the welfare scaffolding comes off, how can it continue to maintain and repair the socioeconomic structure? Navigating policy circles, Rajan knows he must tread carefully. Veterans in the party may not approve of a freshly-minted MLA at the vanguard of two of the hottest areas in politics—the state treasury and the real treasure trove that is data analytics. "Politics is exciting work, but if things don't work out and I find that I have been drinking too much of my own Kool Aid, I will have no trouble finding another job."
Source : OpenTheMagazine