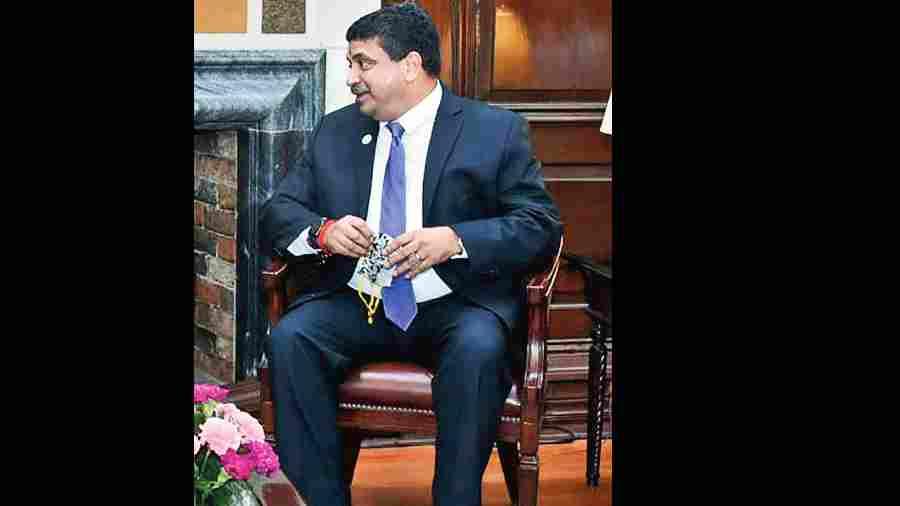 Palanivel Thiaga Rajan must belong to a vanishing breed of politician, game for withering attacks on powerful leaders of a government known for vindictiveness but gracious with those weaker than him — even if they have hurled their slippers at him.
But the 56-year-old Tamil Nadu finance minister, who recently met Prime Minister Narendra Modi's denigration of "freebies" barb for barb, has always been a little different from the usual Indian neta.
Great-grandson of a co-founder of the Justice Party that led to the Dravidian Movement and son of a DMK minister, what "PTR" chose to inherit was an ideological commitment to federalism and the poor rather than an easy path to "dynastic" politics and power.
So, for the first 50 years of his life, he kept himself at arm's length from active politics, adding an MBA in finance from MIT to his engineering degree from Trichy and working with Lehman Brothers in America and Standard Chartered Bank in Singapore.
He married an American, Margaret, whom he met during his doctoral programme at the University of Buffalo. Even a request from then DMK patriarch M. Karunanidhi to join the party, made after the death of PTR's father in 2006, could not sway him.
Now that he has taken the plunge, winning from Madurai Central in the Assembly elections of 2016 and 2021 and turning around Tamil Nadu's economy in just over a year as finance minister, he sports a look rather unusual for a key figure from the avowedly atheist DMK.
The kumkum on his forehead is a sign that PTR is a devotee of the fish-eyed Goddess Meenakshi — an open admission of his faith that he reaffirmed on Wednesday at the discussion on India Today news channel that has catapulted him to national limelight. "I believe in God," PTR told the television anchor, "but I don't believe that any man is God."
The provocation was a question on the Prime Minister's disparaging comparison of populist poll promises to the rewri, a common and cheap sweet in north India.
According to the anchor, Modi's point was that the "subsidies" offered by political parties drain the exchequer without long-term gains or capacity addition and must be distinguished from "welfare schemes" that empower the people. Populist schemes such as free electricity to farmers and free bus travel for women are, however, crucial to welfare politics in Tamil Nadu.
PTR shot back: "I am just going to make the point that either you must have a constitutional basis to say what you are saying, in which case we all will listen, or you must have some special expertise — you must be a double PhD in economics, you must have a Nobel Prize, you must have something which tells us you know better than us, or you must have a performance track record that shows you have grown the economy, that you have brought down the debt, that you have increased the per capita income, that you have created jobs. Then we say, 'Oh, we listen'."
The former Wall Street banker continued: "When neither of this is true, why should we listen to somebody's view? What makes that the gold standard? What makes that the word of God? "The election gave me the right to do what I am supposed to do. My chief minister (M.K. Stalin) gave me a job to do. I am doing it well; I am outperforming the Union government by a lot (on several parameters)."
PTR, who has in his first year as finance minister reduced Tamil Nadu's revenue deficit by over Rs 7,000 crore, said the state's contribution to the Union exchequer was huge."(For every) one rupee that goes from us, we hardly get 35 paise to 33 paise back. What more is it you want me to do? Why should I listen and on what basis?" he asked.
"Do you have a constitutional basis? No. Are you a financial expert? No. Do you have a Nobel Prize? No. Have you performed better than us? No. (Then) on what basis should I change my policy for you? Is this some extra-constitutional diktat that is coming from heaven? What are you talking about?" The Supreme Court is hearing a petition moved by a BJP functionary against the allegedly indiscriminate dispensing of freebies.
The ruling DMK, which has announced a free breakfast scheme for pupils of Classes I to V at government schools, starting with select districts, has impleaded itself in the case."What I am surprised about at this point (are): First, on what basis is the Supreme Court the 'arbiter' of how the money is spent?" PTR said during the TV discussion."There is no place in the Constitution, not only in the Indian Constitution but in Constitutions of almost all democratic countries, for the Supreme Court or any court to decide how the people's money is spent. That is the exclusive domain of the legislature, of elected people."
Second, he said, if a "freebie" is such a bad thing, "why did the Hon'ble Prime Minister fly down from Delhi to Chennai to inaugurate the Rs 25,000 (subsidy) per scooter per woman scheme of the AIADMK government?" He went on: "In my opinion, it was simply the worst freebie that existed in the entire history of Tamil Nadu. It was pollution-inducing, anti-public-transport, a lot of fraud and in every way a bad scheme."
During the 2016 poll campaign, AIADMK leader Jayalalithaa had promised poor working women a scooter subsidy of Rs 25,000 — or 50 per cent of the cost of a two-wheeler, whichever was less. The scheme was rolled out after she died in December 2016. Modi had flown to Chennai on February 24, 2018, Jayalalithaa's 70th birth anniversary, to inaugurate the scheme. PTR also made short work of the anchor's comment that netas cannot be trusted to be responsible when they announce freebies, saying that in a democracy the people should decide.
"The people's vote is supreme. If netas cannot be trusted, what is the notion of democracy?" he said.
Whether a neta is good or bad "is what the people decide in an election — what more do you need?" PTR said.
As his remarks went viral on social media, PTR on Friday tweeted a full video of the TV interview for the record.BJP spokesperson Narendra Taneja has accused PTR of "intellectual arrogance", saying he ought not to speak like that just because he had "a PhD from the US", and castigated his remarks about the Supreme Court. Modi has not been the only influential personality to suffer PTR's acid tongue. The finance minister had a few months ago called celebrity yoga practitioner Sadhguru Jaggi Vasudev a "publicity hound" and alleged irregularities in the way his Coimbatore-based Isha Foundation had constructed buildings on forestland. The foundation had deplored the "un-parliamentary and uncalled for personal attack".
Recently, he took on Union finance minister Nirmala Sitharaman, reacting to the rising prices and the GST on essential food items like rice, milk and curd by referring to the "wrong ways of the colonial powers in Delhi".
He rebutted Sitharaman's observations, made in the Lok Sabha in early August, that the 5 percent GST on "branded" food items like rice had been imposed with the agreement of all the states including "your (Tamil Nadu's) finance minister" who was in the GST Council. PTR hit back from Chennai, saying what Sitharaman had said was only the "partial truth".He said that Tamil Nadu had opposed in writing any GST on zero-tax essential food items, but the Group of Ministers had produced a summary report recommending rate rationalisation for 56 items.
Currently, PTR, who had at Lehman Brothers grappled with complex market issues during the 2008 global financial meltdown, is tackling the challenge of the Rs 1,000 monthly dole to homemakers the DMK had promised in its 2021 poll manifesto. But the minister who stood up to Modi had revealed a softer side days earlier when an irate bhakt threw something a little less palatable than a rewri at him. PTR was returning from Madurai airport on August 13 after paying homage to an army jawan killed by militants in Jammu and Kashmir, Lakshmanan, when a group of men and women BJP activists forced his car to stop. Angered at being prevented by official protocol from joining the wreath-laying ceremony, the activists banged on the bonnet amid shouts of "Bharat Mata ki jai".
One of them threw a women's slipper. The minister kept his cool, and his sense of humour. Tweeting a picture next day of the chappal stuck on his car's bonnet, he wrote: "I will have more to say about yesterday's events, but for now… if the missing 'Cinderella of the Old Airport Terminal'… wants her sandal back, my staff saved it for you."
Media: Telegraphindia.com